As the sun was setting across Loch Ewe you could clearly see Mackay cantering alongside a deer and her fawn, caught perfectly in silhouette on the skyline.
In the village of Aultbea next to the Drumchork Lodge Hotel lived old Mr Bennett, he lived in a small farmstead with a courtyard of barns in a permanent state of disrepair. Later in life he had become a part-time Ghillie for the Letterewe Estate to support the rush of activity in the stalking season. This was primarily down to his in-depth knowledge of the moors and the ownership of Mackay, his faithful Highland Pony.
Mr Bennett would often recount to Leslie the stories of his beloved horse over an evening tipple at the Hotel bar. "Mackay can get to places no off-road vehicle would even attempt; his ability to weather all storms and carry countless bags of supplies to the stalkers knows no bounds. I'd be lost without him."
Bennett, a confirmed bachelor from Sussex moved up to the highlands for his job. He worked for the MOD (Ministry of Defence) who operated a small base in Aultbea, a refuelling station and major oil storage facility. Taking early retirement his attempt at running a small livestock farm faltered due to a lack of knowledge, rapidly disappearing funds (to the local hostelry) and his constant distraction, a love of painting.
It would seem Bennett and Leslie would have a few things in common, painting, enjoying a dram and the great yarns involving the running of a farm and their love of horses. Mackay outlasted all the other livestock.
Highland ponies are a hardy breed and although they can largely look after themselves, as with all tamed animals they do benefit from good care and attention. Driving past Bennett's place you'd often see Mackay just stood in the centre of the near field, no cover or blanket, just stood stock still in the howling wind and rain. Happy in his own company, yet in the morning, he'd equally be delighted to trot over to the fence should a passing schoolchild holler for attention waving a carrot, apple or even a handful of hay.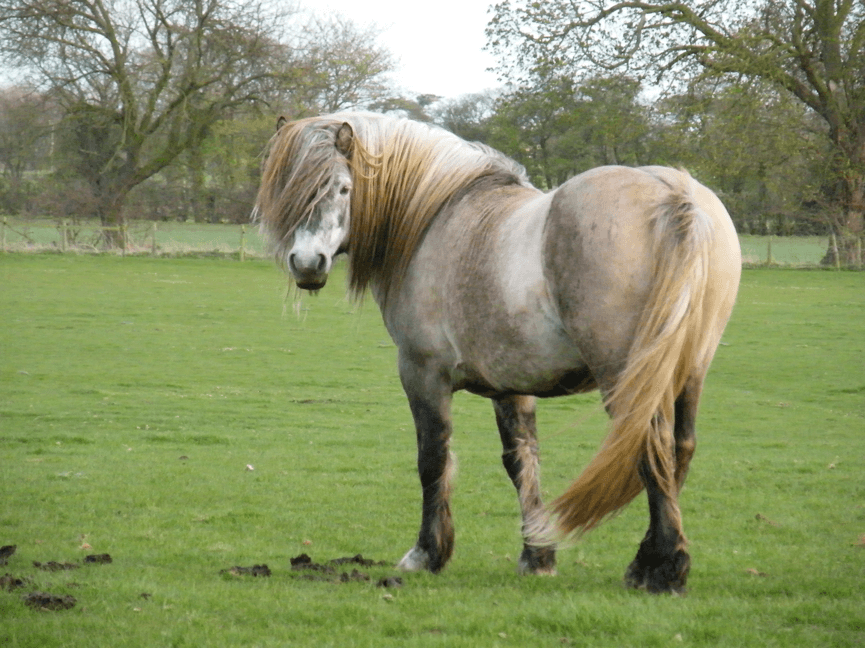 Mackay, Bennett's Highland Pony
Mr Bennett passed away rather unexpectedly and when it came to Mackay no record could be found of his birth or where he originated. In Bennett's last 'Will and Testament' he had left Mackay to Leslie, a surprise to his family and especially James (Leslie's husband); she said she would house him until a more permanent home could be found.
Mackay must have been in his early 30's by the time he arrived that summer at Little Gruinard, Leslie had never known a horse to live so long. He soon embraced the wide-open space, making a point of grazing from the house to the mouth of the river. As friends and family visited the house he was gracious and accommodating to the whining children and the excited adults. Although it was to be his last year he lived in the lap of luxury, free to roam, a stable to call home with company or space, as he desired.
Raise a glass to Mackay a breed apart, that made an old man thankful and a posse of fans bereft at his parting.
Credits:
---
Colin Gilchrist (whisky enthusiast), guest blogger.
---
At Craft Whisky Club we want to help you discover this new whisky landscape as it unfolds.
Why not Join us to discover the new whisky classics.