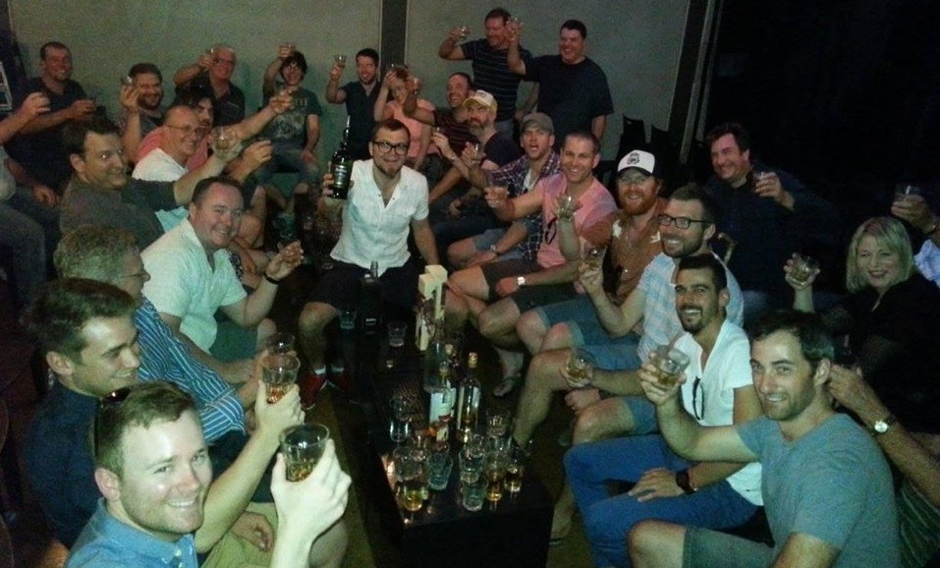 As residents of Edinburgh some of us go on holiday to avoid the Festival, not me. I try and take a week off and soak it all up. Our wee city sees its population increase 4 fold, the hospitality industry benefits as much as the shows.
Continuing my journey in whisky I thought I'd check out any events with a whisky theme, or at the very least have a faint association with it – I was not disappointed, there are quite a few; following are some of the highlights for me.
Whisky for Dafties
I'm most delighted to see that @whiskycomedian Alan Anderson is at this year's Festival; his show description:
"The whisky tasting show with a difference: many malt whiskies to be tasted, many laughs to be had. You get to sample some fine malty, peaty beverages whilst Alan fills you in on the history, methodology and lore of this great drink." Alan is performing almost every day throughout the Festival (12-28th Aug) at the Beehive Inn in the Grassmarket; check the Fringe website for details (Festival link).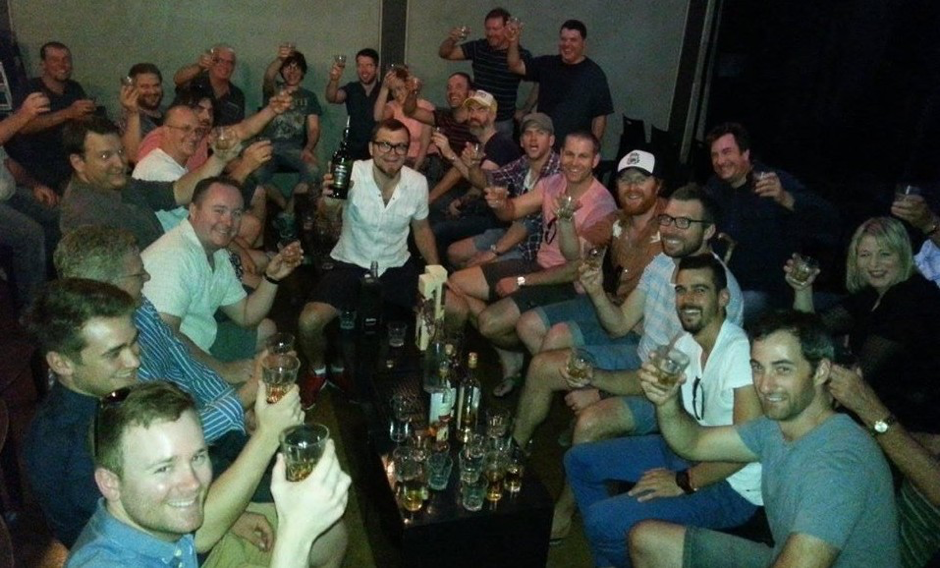 Art of Reduction and Distillation of Humanity by The Whisky Anorak (John Mark Di Ciacca).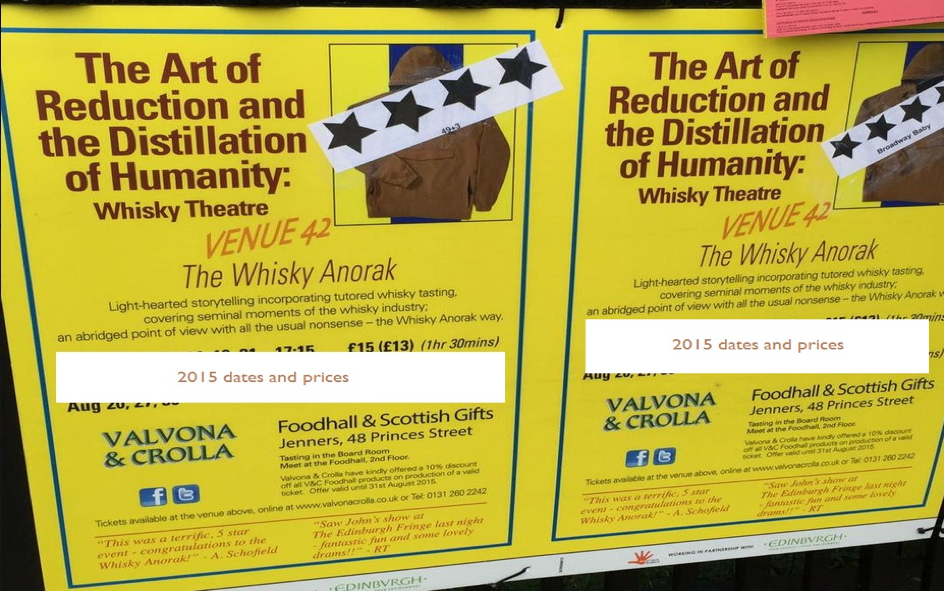 The show description reads: "The whole of the 20th century viewed through profound counterculture events and the whisky industry! An abridged history lesson and tutored whisky tasting". It also states: In 2012, in the presence of HSH Prince Albert II of Monaco, The Whisky Anorak led the inaugural tasting of the Monte Carlo Whisky Society at the Hotel de Paris and gave an expert whisky tasting for 18 Monegasque Sommeliers and Masters of Wine. Clearly a palate with pedigree. (Festival Link) is being 'performed' 18- 25th August at Valvona & Crolla in Jenners Department Store on the 2nd floor.
Scotch Whisky Revealed by @kaskwhisky (Justine Hazlehurst)
Justine presents an entertaining and informative tasting, aimed at those who would like to improve their knowledge of whisky. Enjoy the guided nosing and tasting of six single malts, each carefully chosen to illustrate the different styles of Scotch whisky. Expect delicious drams and plenty of malty mischief!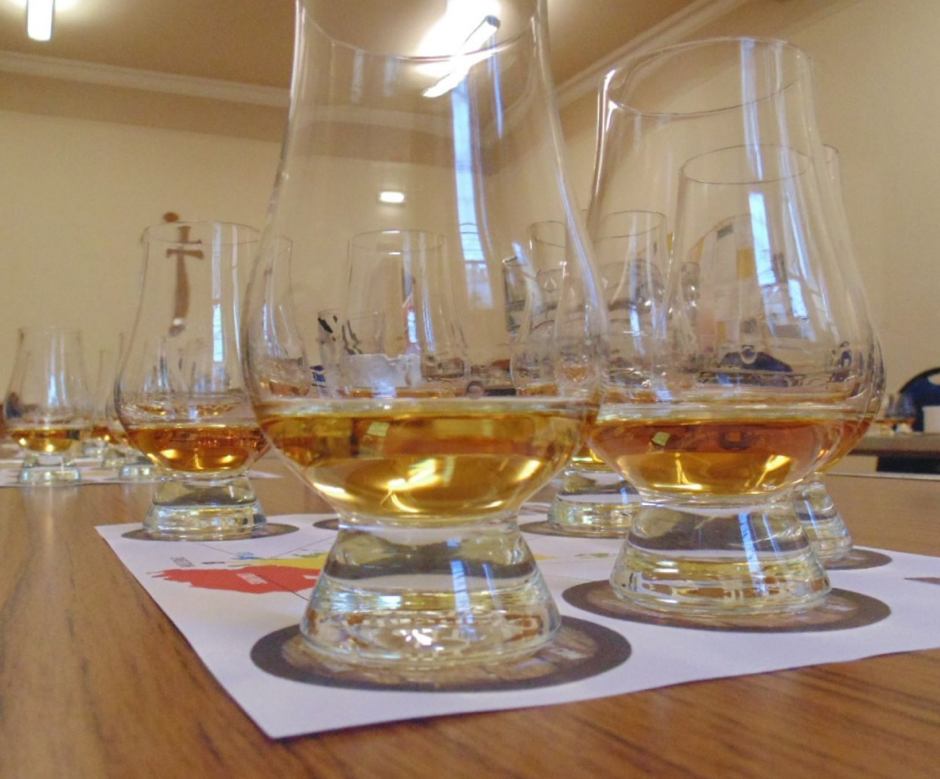 Justine also runs the Edinburgh Whisky Appreciation Meetup and has a great background for presenting this event. It runs from 1 – 14th August at the Hill Street Studios (a rather beautiful venue). (Festival Link)
A couple of the other events spotted include a Cannonball Glengoyne Whisky Supper: Fringe fun with great food and world class tutoring on Scotland's national drink (Festival Link) and also Edinburgh Whisky Walks: A Tour and a Tasting: A fun and informative walking tour of Edinburgh's Old Town, followed by a tutored tasting of four single malt Scotch whiskies. Explore the city's former brewing districts of Canongate and Holyrood with a knowledgeable and experienced local guide – highlights include the new Scottish Parliament building, the Palace of Holyrood house and the Royal Mile. Then enjoy an exclusive taste of Scotland's finest "liquid asset" in the company of the connoisseurs from the Jeffrey St. Whisky Company, and learn what makes great single malt. (Festival Link)
The above mentioned events are all ones found on the official Edinburgh Fringe website; there will no doubt be last minute additions (unofficial) and other random pop-ups that appear out of the woodwork when the Festival gets going.
If you're coming to Edinburgh in August, bring sturdy walking shoes, shorts, a t-shirt, a piece of knitwear you don't mind getting soggy (your elbow will get damp on the bar) and of course a raincoat that will fit into your backpack… oh, and deep pockets. See you there.
---
Colin Gilchrist (whisky enthusiast), guest blogger.
---
At Craft Whisky Club we want to help you discover this new whisky landscape as it unfolds.
Why not Join us to learn more.