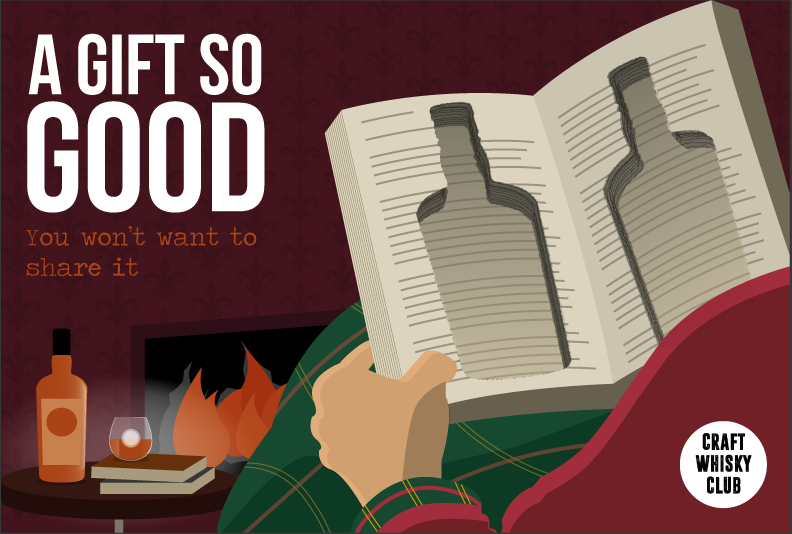 'Graham!' Scott shouted, visibly surprising his brother. 'Anything I can help you with?' Graham turned to face Scott. ' I know that's my whisky up there Scott' 'You've kept it for yourself haven't you? Well I know it should be mine. Just wait until I show Mum and Dad what you've been up to.'
The threat threw Scott right back to the boy's childhood. He grabbed hold of his brother's arm, pulling him away from the tree. 'I've no idea what you're talking about Graham!' 'Come and have a wee nip in the kitchen with everyone and don't be so daft' He managed to tug him hard enough to pull Graham out of the living room and was relieved to find Jess standing in the hall. 'Graham, where've you been? Stop wandering off and come sit down, your mum and dad are wanting to have a whisky with you!' With muffled protest and murmurs about hidden whisky, Graham followed Jess back into the kitchen.
Scott had managed to stave off his brother's advances for a moment, but it wouldn't last. Once again, he had to think on his feet. Hide the whisky again? Pour it into other bottles? It was too late for anything simple, he had to go all out. Graham would try and search the house, so Scott would have to do something really outlandish. Draped over the bannister was the father Christmas costume he'd worn at the office party. Suzie had insisted he give it away or throw it out, but right now he was so glad he hadn't listened. The big red suit gave him a brilliant idea...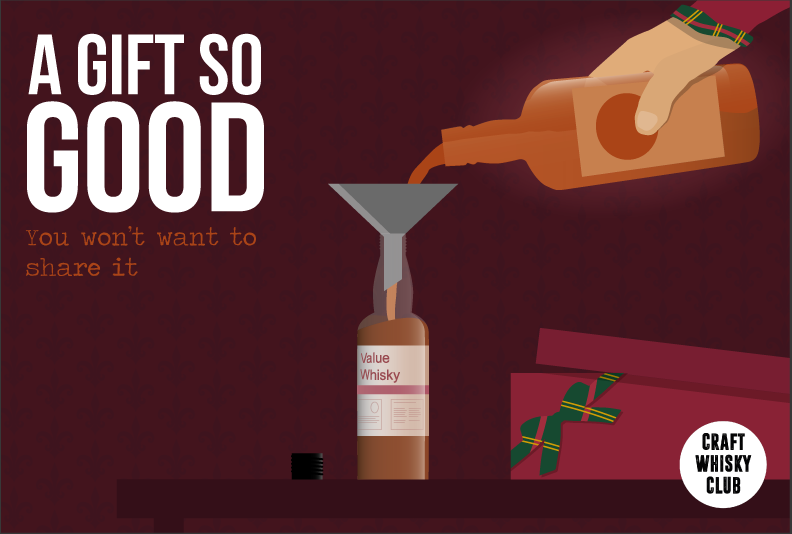 Within a few seconds, Scott had transformed himself into an affable Father Christmas, complete with couch pillow under the jacket for that festively-plump look. The faux-pudgy midriff also gave Scott the perfect place to keep his illicit whisky bottle. Safely tucked inside the pillowcase, the bottle would be on Scott's person at all times, there was no chance Graham would get his hands on it. It was the perfect plan - save for one minor detail. How was Scott to explain his sudden change in appearance?
Returning to the kitchen in the red robe and white beard, Scott visibly stunned his guests. 'Looking good son!' Dad chipped in. 'Why are you dressed like that Scott?' His mother enquired innocently. Meanwhile, Suzie scowled at her husband, sensing there was an ulterior motive behind this festive get-up. She would let it slide for now, but there would be an inquisition once their guests had departed. Graham was most-visibly irked, with a face so red it came to match his beard in shade. Jess had managed to sit him back down at the table, in spite of his protests, but the sight of Scott in costume had Graham struggling to contain himself. 'He's got my whisky! Graham shouted with bluster 'he pinched my gift! I saw it on the top of the tree!' 'Don't be so daft son, your brother got you that lovely pair of socks! You should be more grateful, besides, we've all got a Christmas dram on the way.'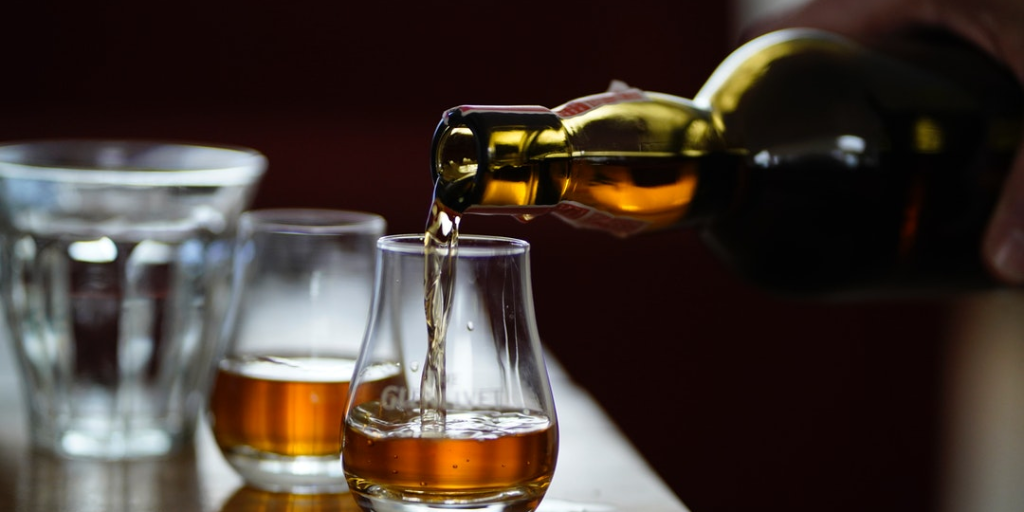 'Aye Dad' Scott seized the opportunity to present them all with a nice neat whisky. It was the supermarket stuff, but at this point, it was of no bother to Scott. He could feel himself just about getting away with it! No one seemed to believe Graham, who sounded like he'd had a bit too much sherry with his turkey. Now and again, Scott felt the bottle move inside the pillow-case beneath his jacket. He was wary of any sudden movements that might jeopardize his disguise. If he could just get through the next hour or so without giving it away, he'd be free to enjoy his prized whisky all for himself!
Scott reclined and took a sip of whisky from his glass. Not great by any means, but anything would taste sweet in these circumstances. He was on the brink of besting his brother with the most audacious of plans, and no one was any the wiser. For a minute, Scott allowed himself to relax and forget about all the madness. Graham calmed down, finding a bemused medium between admitting defeat and questioning what he had seen. He was made to laugh by his parent's tales of Christmas-pasts that had been spent in vain trying to mediate scuffles, shouting matches and tears amongst the tinsel in the two boys' younger years. After many a chuckle, Graham put an arm around Scott. Nowadays, they were both far older and more mature, and no longer inclined to hide each other's gifts or anything like that…
As the evening drew in and the snow outside became heavier, the family began to say their goodbyes. If they were quick about it, Graham could get everyone home and in front of tele before the first Harry Potter started on ITV. Scott and Suzie waved from the doorstep, braving the cold and the snow until they became too chilly and retreated back inside. Sam ran downstairs from his room to say goodbye to cousin Josie, before retreating to his room for the rest of the evening.
With the house quiet, Scott looked upon the mountain of plates surrounding the kitchen sink. 'Ach, we can get to that tomorrow' He said to himself. He went upstairs to change from his father Christmas costume, looking forward to pulling on his tartan jammies and slipping his warm slippers. To his surprise, Scott found Suzie out cold on the bed, knackered from a day of serving spuds and stopping Scott and his brother from tearing each other apart. Suzie didn't look like she'd be moving any time soon. Realising an opportunity presented itself, Scott let out a wry smile. Taking care not to make much noise, he reached below the bed, pulling out a sleek black box full of goodies. Still smiling to himself, Scott pulled the whisky bottle from his costume pillow and made his way downstairs…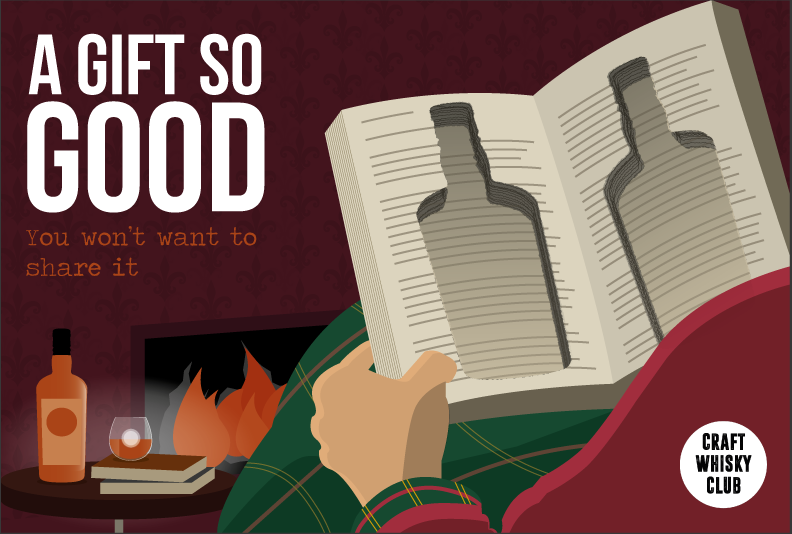 Missed out on the deadline for Christmas Shipping? No problem! We are creating personalised gift letters for all you latecomers so you can and your loved ones can still Discover a New World of Whisky. Explore our range of exclusive whisky subscriptions and gift boxes here.