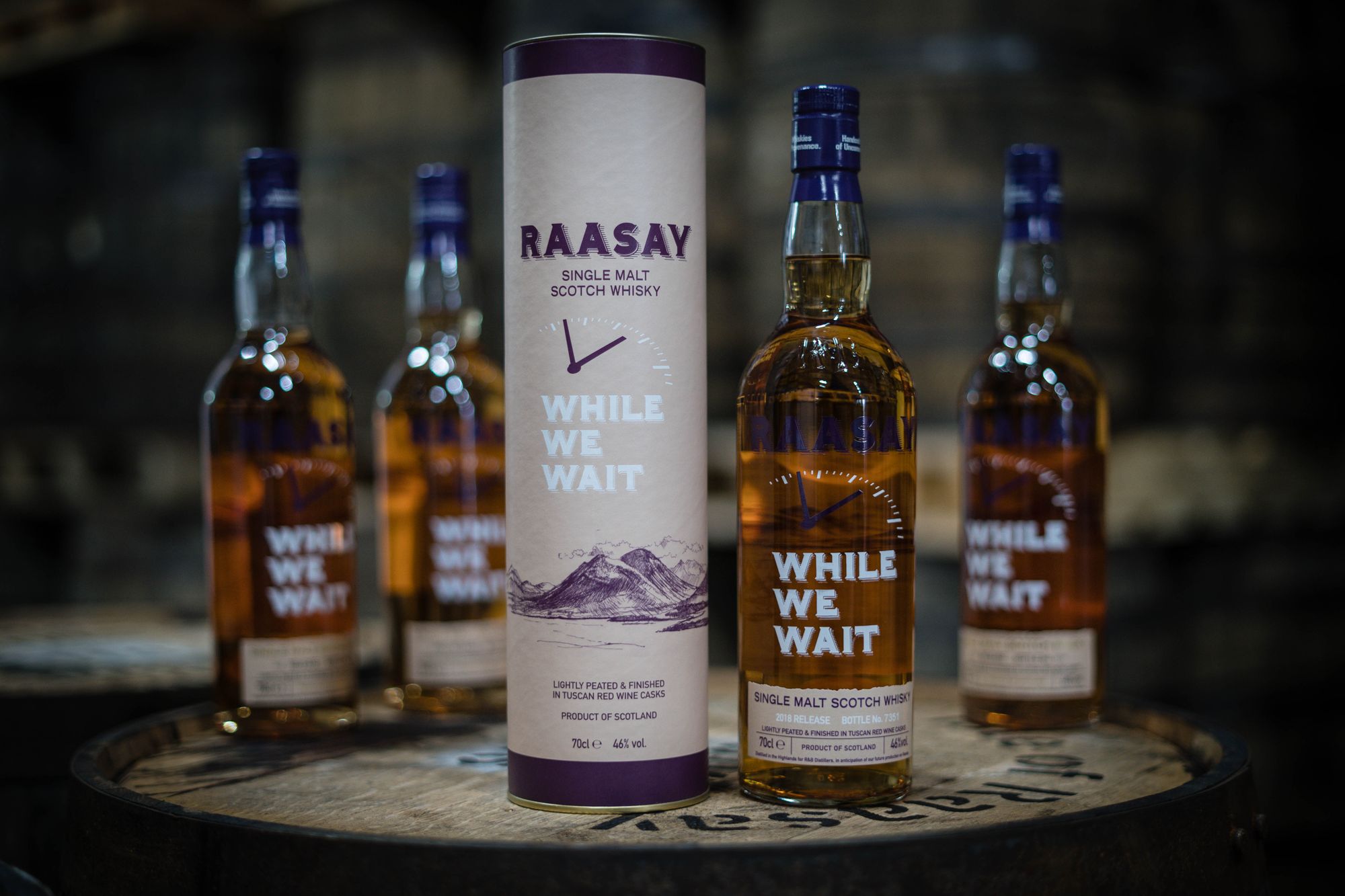 A visit to the Hebrides can be a surreal experience. For the typical tourist, such an adventure might begin in Glasgow or Edinburgh. These days, both of these ancient cities are vibrant, dynamic and full of everything associated with modern life. Once you leave the urban sprawl and hit the winding roads of Scotland's west coast however,  a sense begins to creep in that you might be heading somewhere altogether quite different. After a ferry ride, you are transported to a wild landscape consisting of rugged coastline, swooping crags and rough seas, all whipped up by briny, salted air.  Whilst the Hebrides can seem unforgiving, there's an innate beauty to the harshness of the conditions.  What's more, once in a while the skies relent, the wind dies down and the seas calm. If you're lucky enough, you might catch a glimpse of some of the most breathtaking views that Scotland or indeed anywhere in the world can offer.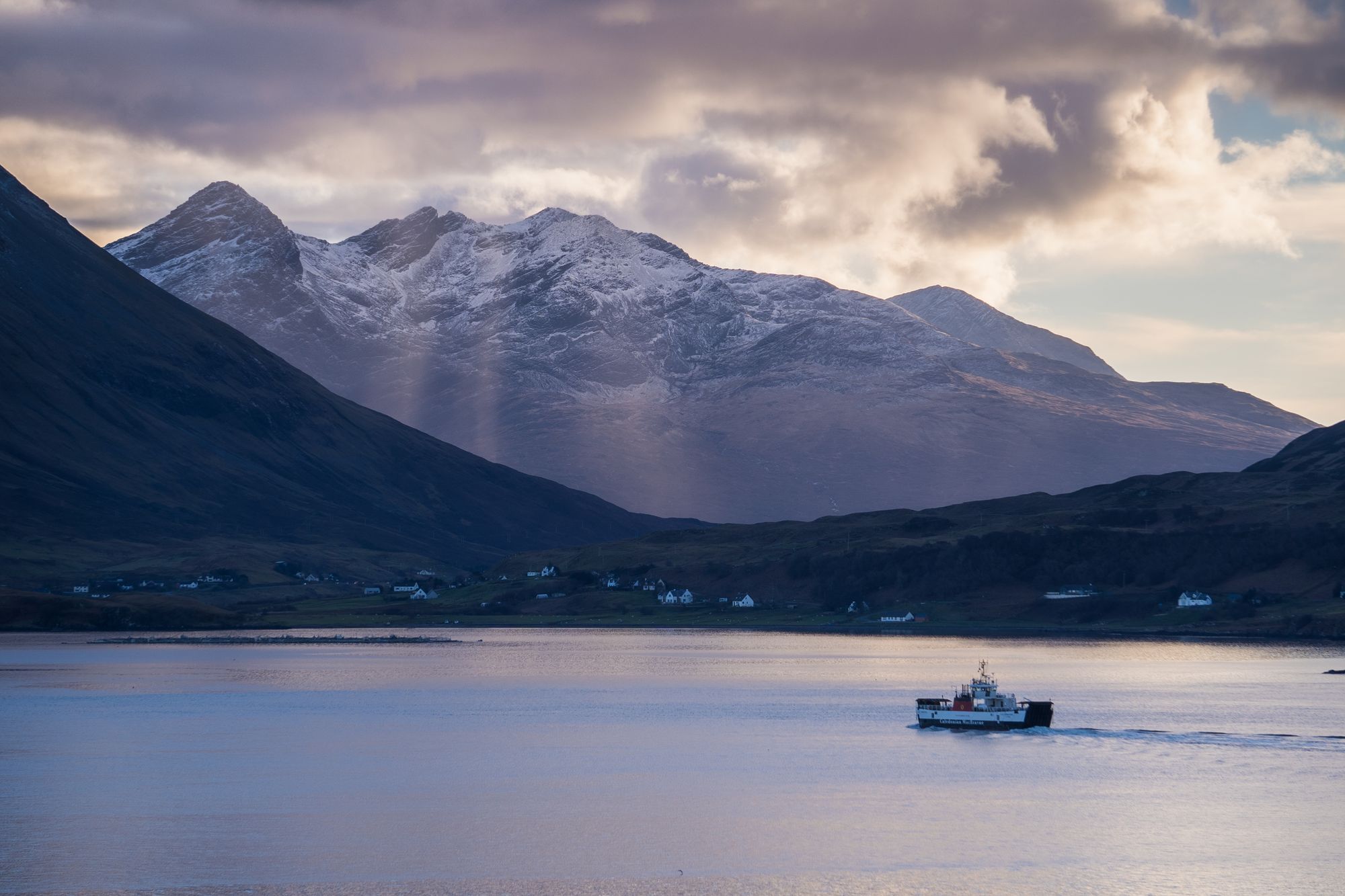 The Isle of Raasay nestles between the Isle of Skye and the Scottish mainland.  Roughly the size and shape of Manhattan,  less than 200 people call the Isle of Raasay home. Yet just like with many of the surrounding islands, there is an intimate connection between the population, the landscape and the art of making whisky. As demand for the water of life soars both at home and abroad, ancient isles such as Raasay are looking to their heritage and seeking to resurrect the whisky making tradition on their shores.
The First (Legal) Distillery on the Isle of Raasay
Whilst it is entirely true that the Isle of Raasay has a long history of distillation,  much of the spirit made on the island had been done so illicitly. This changed in 2017 when the stills of Raasay Distillery were fired up for the first time, marking the first legal whisky operation to ever operate on the island. The vision behind the distillery is simple: create the finest Hebridean single malt Scotch whisky and a unique whisky destination.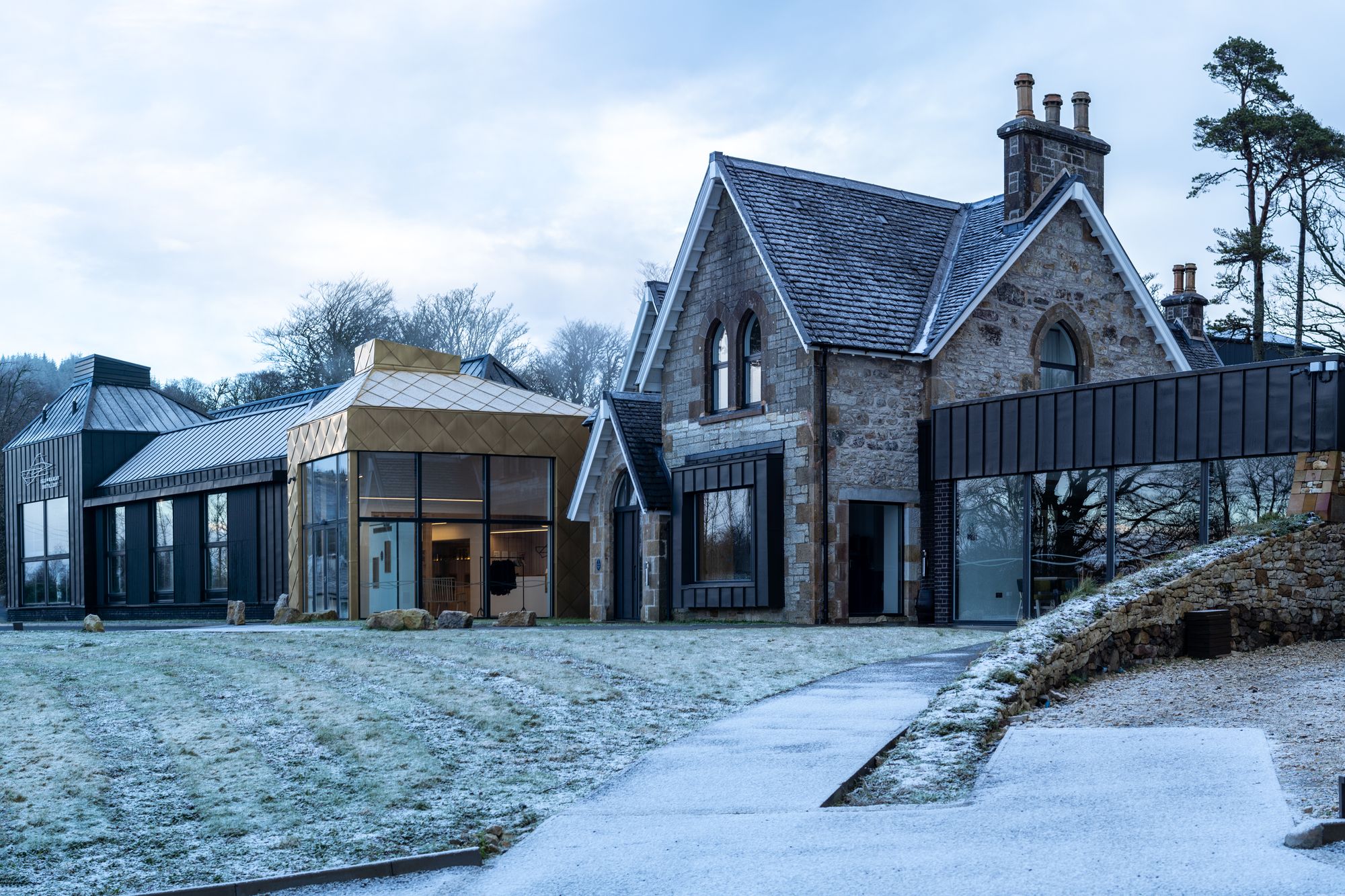 The doors are open to visitors from all over the world who wish explore the impressive production facilities, stay in award-winning accommodation and explore the wild natural landscape of Raasay. There's also time for a taste of a wee nip here and there if you find the time!
Island Born and Bred
There's much that makes this ancient isle ideal for making exceptional whisky. Translated as 'island of the roe (or red) deer', the geology of Raasay is one of distinct diversity, a result of its formation by volcanic activity long ago. Water from the aptly named "well of the pale cow", is therefore rich in minerals, which in turn bestows the isle with fertile land and rich biodiversity.
Blessed with great natural resources for whisky-making, Raasay Distillery aims to keep as much of production local as possible. The isle's natural water supply is used at all stages of production. Where possible, local peat and barley are used to create a truly local malt composition.  What's more, it's not just the whisky with local origins! Over 10% of the population of the island is employed at the distillery and many more with island roots playing the part in its development. As a result, the distillery has quickly become a focal point in the community and has helped to showcase the best of this vibrant isle.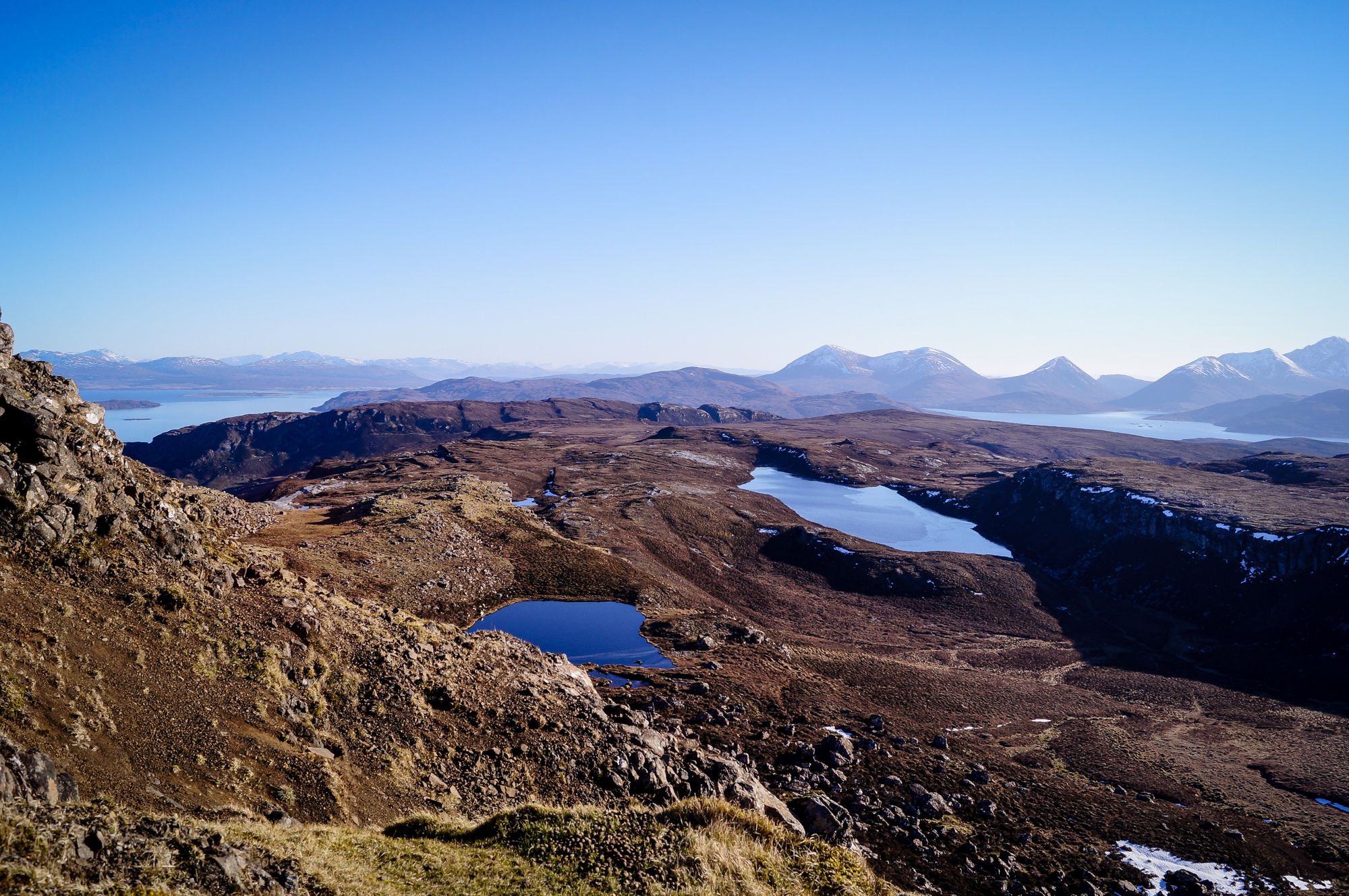 Time is Whisky
Though the distillery is only just over two years old, the team up on Raasay have not wasted any time getting down to work. Production is in full flow, and a variety of different cask types have already been filled with both peated and unpeated spirit since production began. In the summer, world-renowned whisky expert Dave Broom visited the warehouses on Raasay to sample how the new-make had been getting on. Watch the video below to find out what he thought:


You can currently buy both large (190L) and small (30L) casks from Raasay Distillery. If, like most whisky-lovers, your dream is to own your very own whisky cask, this is the way to do it! Casks mature at the distillery's warehouse on the isle, giving you the perfect excuse to take a trip and see for yourself.
If your pockets are not deep enough to buy a full cask outright, fear not. We recently launched our innovative Caskshare platform.  Caskshare allows whisky-lovers to reserve 'shares' of whisky casks, choosing between a wide variety of wood types and ages as the whisky matures.  There are several intriguing Casks from Raasay on Caskshare, including ex-Bourbon, Chinkapin virgin oak, and Bordeaux red-wine wine casks. You can opt for your whisky to be bottled at cask strength or 46%, and there is a range of bottling dates available starting at 2022.
While We Wait
The first whisky distilled on the island will be released late 2020. Whilst you can certainly hold off until then (and indeed pre-order a bottle or two), that's still quite a while to go. Thankfully, Raasay has crafted an exceptional single malt whisky to give us the perfect idea of what we might expect from them in the years to come. Now in its third release, While We Wait brings together two distinct expressions from one distillery - one peated, one unpeated.  The whisky is then finished in French oak Tuscan wine casks from three vineyards that produce Cabernet Sauvignon and Cabernet Franc. It's an elegant whisky which invokes rich fruity flavors and delicately balanced smoke. See below for the full tasting notes.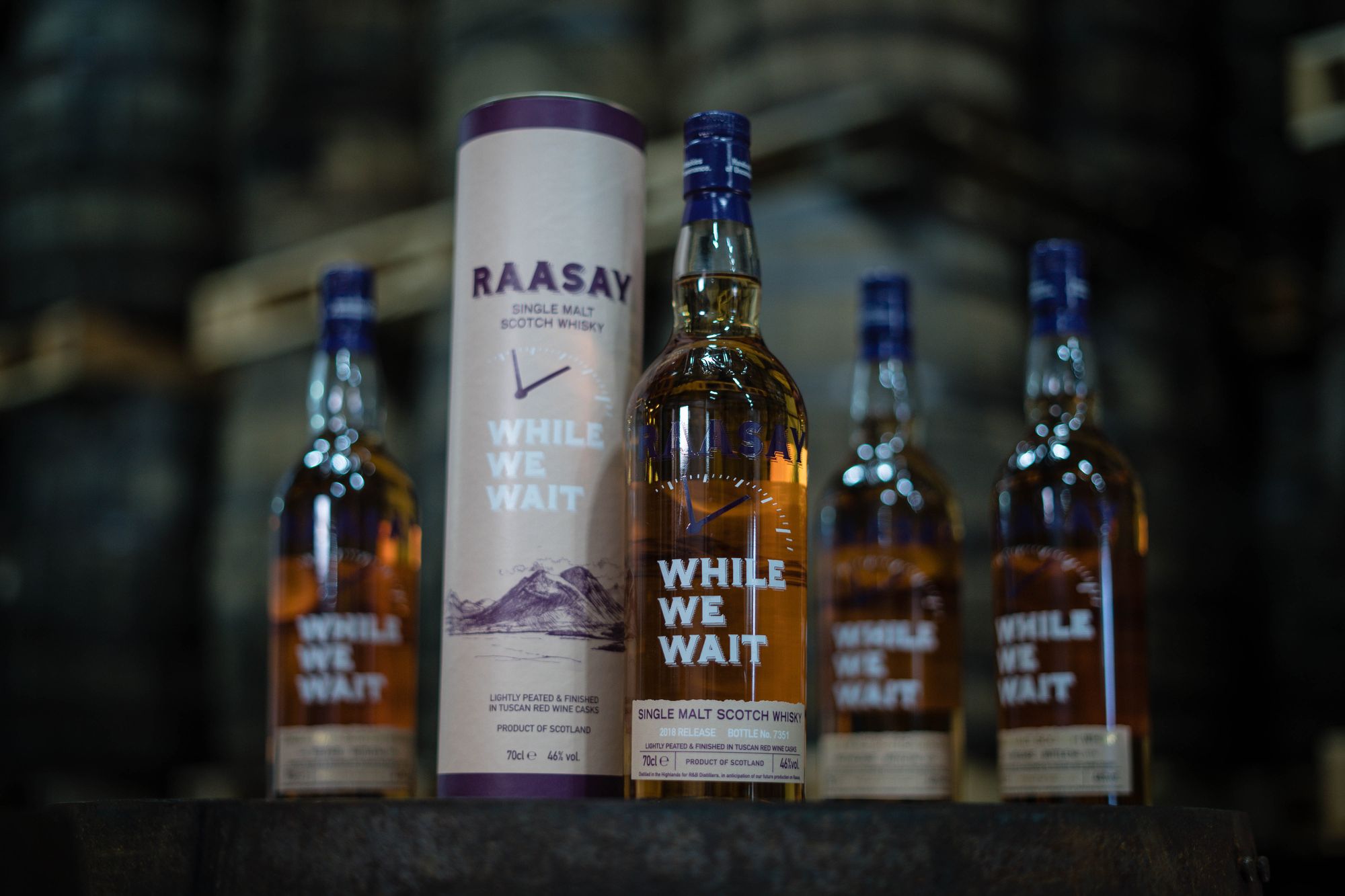 While We Wait 2018 Edition Tasting Notes

Nose:
A welcome smokiness on first nosing, mixed with red berries, lemon and grassy notes. With more time; pear, tangerine and melon.
Palate:
Dry peatiness on the palate, mixed in with red wine notes. A good dash of orange zest from the nose.

Finish:
Oaky and buttery finish.
Food Pairings:
Pairs well with Sconser scallops, smoked salmon, game, grouse, woodcock, venison, creamy blue cheese, bacon, haggis, fudge.
ABV:
46% Non-Chill Filtered.
Craft Whisky Club Exclusive!
We are thrilled to be able to exclusively introduce our US members to Isle of Raasay's While We Wait. All existing and new US members for the next two months will receive this exclusive limited-time offer which includes a full bottle of While We Wait Single Malt Whisky + treats. This is the first time While We Wait will be available to purchase in the US meaning you'll be among a select few who have been lucky enough to get their hands on this exceptional whisky. Aside from a delightful Hebridean dram, you'll also be playing a role in continuing the story of the Distillery, the Isle of Raasay and the craft whisky movement.
We think its the perfect way to launch a new whisky - and we're inclined to think the locals agree!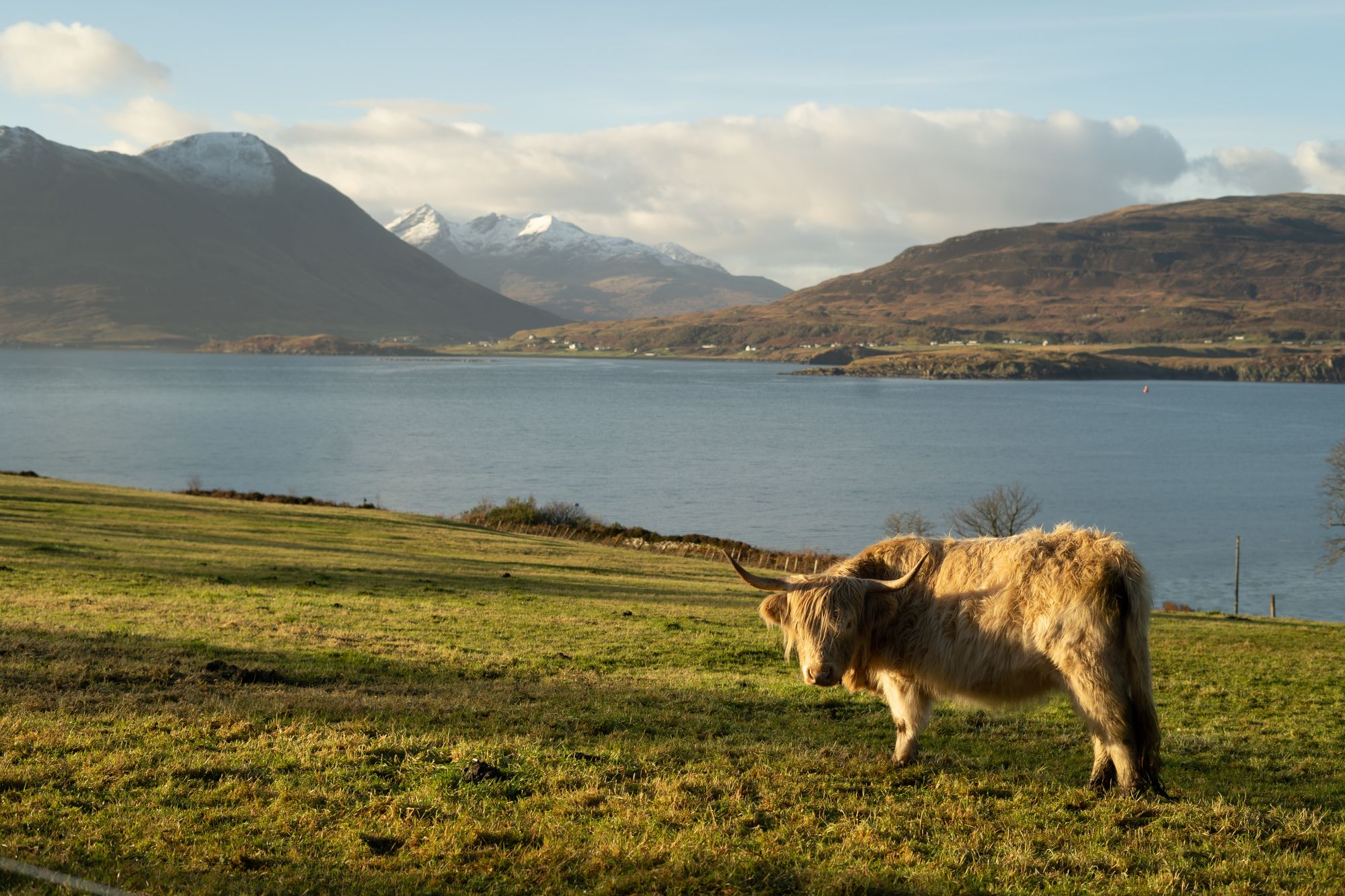 Available Now
Our While We Wait launch members box is on sale now in the US. You can join as a member on a rolling subscription of one or two bottles every two months, with payments taken on a monthly basis. Alternatively, you can give a gift membership for a set amount of time to someone special, paying the full amount upfront. As with all of our member whisky boxes, we have a 1-bottle option and 2-bottle membership featuring Tweeddale, Isle of Raasay's sister brand's Grain of Truth. Whichever option works best for you, we look forward to welcoming you or your gift recipient to the No.1 Craft Whisky Member's Club!
Whisky fans in the UK and EU can also pick up a bottle of While We Wait by becoming a Craft Whisky Club member. Join today and enjoy as part of the membership sequence or purchase from our Secret Still now.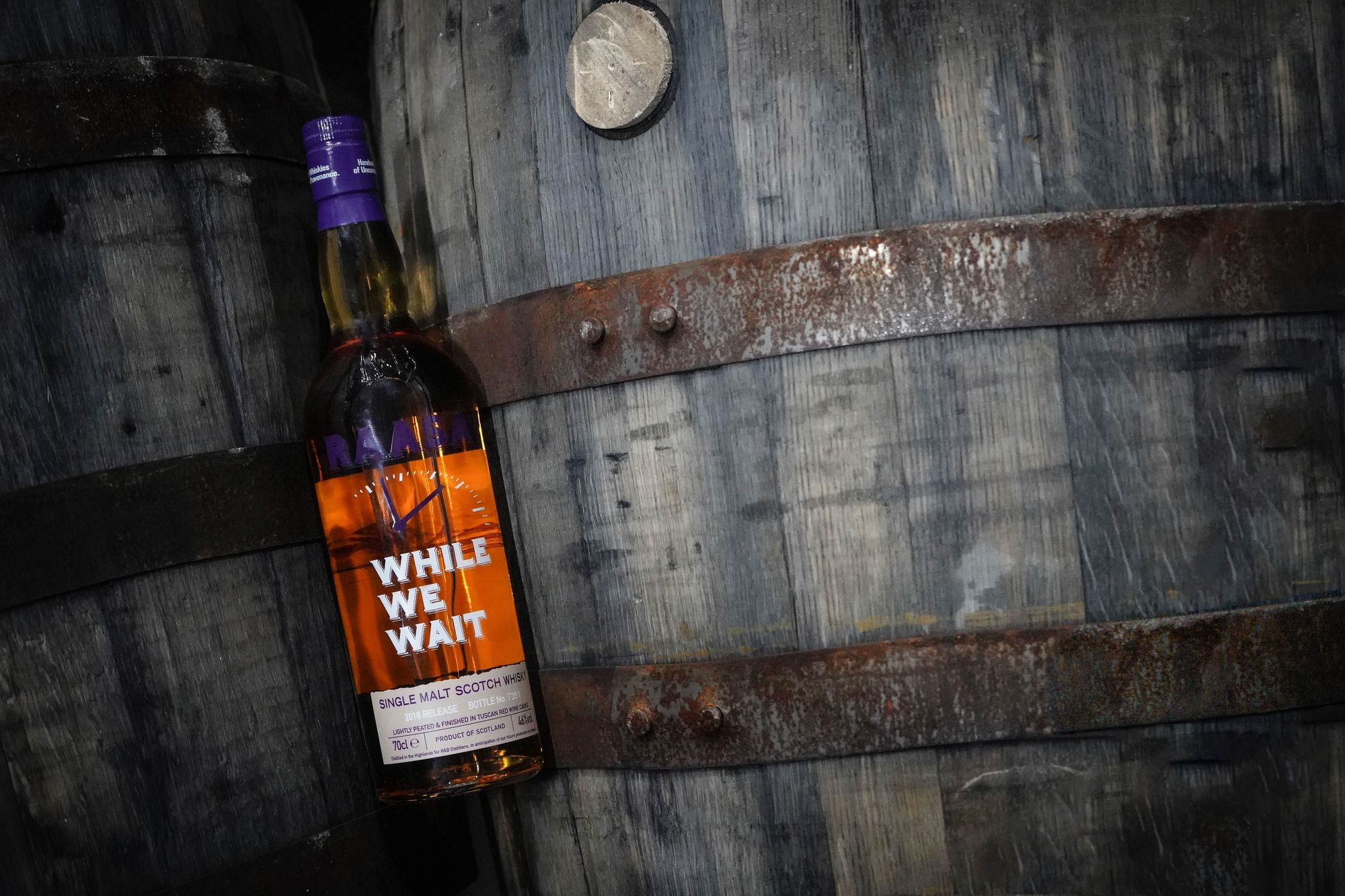 A Bit More About Us
CWC is the leading Craft Whisky members club, with a commitment to discovering the next generation of classic whiskeys. Seeking out the best small-batch, artisan and innovative producers, Craft Whisky Club provides members with the opportunity to explore a new world of whisky beyond what they might typically order in a bar or pick up at a liquor store. Each carefully curated subscription installment or gift box comes with specially selected food pairings that help to make each whisky experience something to savour.